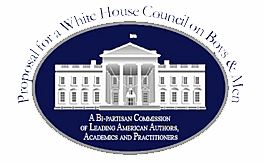 The Colorado and Atlanta Mass Shootings: Boys Who Hurt Us Are Boys Who Hurt
For Immediate release:
Contact: (202) 531-9322 Glenn Barker or Philip Cook Dr. Warren Farrell, e: warren@warrenfarrell.com; h/o: 415-259-6343 (Pacific time), thewhitehousecouncil@gmail.com
March 25, 2021
By Warren Farrell, Ph.D
The two mass shootings have left virtually every American feeling some degree of insecurity. We all want to prevent mass shootings, but we differ as to how.
In Dr. Warren Farrell's research for The Boy Crisis, he uncovered 63 red flags of depression and suicide that warn us that a boy or man may be hurting. A mass shooting is both a multiple homicide and a suicide (either literally or practically)—that is, a boy or man hurting enough to also end his own life.
The Boy Crisis identifies four things that mass shooters have in common:
1. They are male (almost 100%)
2. They are boys who are hurt (e.g., the 63 red flags)
3. They are dad-deprived (about 80-90%)
4. They have guns (by definition)

1. (Male) and 2. (Hurt). What is happening to boys and men that is creating such pain and anger that they have become almost all of our mass shooters? Boys and men who hurt us are also boys and men who are hurt. They are committing both homicide and suicide (either literally or practically). Whether, as with Atlanta shooter Robert Aaron Long, who was haunted by his sex addiction in conflict with a religion that prohibits non-marital sex; or as with the Colorado shooter Ahmad Al Aliwi Alissa, who was both bullied for being a Muslim and also paranoid, we are not being pro-active in our sensitivity to the 63 red flags of depression and suicide Dr. Farrell identifies in The Boy Crisis–red flags that would help us care for these young men before they no longer care. Our ignoring of these boys and men is so complete that the new White House Gender Policy Council mission statement is the issues of women and girls, and completely ignores the issues faced by boys and men--issues that lead to their homicide and suicide.
3. (Dad-deprived). Why are so many of the boys and men dad-deprived? For example, all five of the deadliest school shooters in this century for whom we have family backgrounds—100%--are dad-deprived. See below. About 80-90% of the mass shooters in general for whom we have family backgrounds are dad-deprived. Examples include: Adam Lanz (Sandy Hook); Elliott Rodgers (UCSB); Dylan Roof (Charleston); Nikolus Cruz (Parkland); Stephen Paddock (Las Vegas). Yet father involvement is being completely ignored as a contributor.
4. (Guns). These hurt males have guns—often multiple high-powered guns.
The most-ignored contributor to mass shootings: Dad-deprivation
With schools opening up, we need to prepare for what we can prevent: school shootings. Of the six deadliest school shootings in this century, family background is available for five of the shooters. All five—100%--are dad-deprived.
Here are the highlights about the family background of the deadliest school shooters in the 21st century. (The first five, bolded, are ones for whom we have family background.)
1. Seung-Hui-Cho; 2007 - 33 dead - VA Tech. Seung-Hui-Cho was dad-deprived for the first 5 years of his life, 1984-1989. ("To ease his family's plight, the dad, Sung-tae Cho, left his wife behind to be a laborer in the Middle East, working on oil fields and construction sites in Saudi Arabia for most of the 1980s.")
2. Adam Lanza; 2012 - 27 dead - Sandy Hook, CT. Adam's parents divorced when Adam was 16 and he lived with his mother in what was reported to be an extremely combative relationship. In a New Yorker article, Adam's father, Peter Lanza, said he had not seen Adam for two years before the shootings.
3. Nikolas Cruz; 2018 - 17 dead - Marjorie Stoneman High School - Nikolas Cruz' father died when Cruz was 5 years old.
4. Chris Harper-Mercer; 2015 - 10 dead - Umpqua Community College, OR - - Chris lived with his mother during the separation and divorce of his parents. He continued to live with his mother and remained with her when she moved to Oregon for work. His father had not seen him for about two years following his son's move out of state.
5. Jeffrey Weise; 2005 - 10 dead - Red Lake Senior High School, MN. Dad committed suicide when Weise was 8 years old.
6. Dimitrios Pagourtzis; 2018-10 dead - Santa Fe High School in Santa Fe, Texas- Dimitrios' dad's status undetermined. It is known he had access to his father's guns, but not how or why, or how much contact Dimitrios and his father had.
Source: Richard Warshak and Warren Farrell, "Brief Note on Relationship to Father of the Six Deadliest School Shooters in the 21st Century," December 18, 2019
---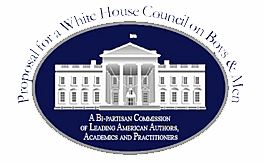 White House Gender Policy Council Excludes Males - The Boy Crisis
For Immediate release:
Contact: (202) 531-9322 Glenn Barker or Philip Cook Dr. Warren Farrell, e: warren@warrenfarrell.com; h/o: 415-259-6343 (Pacific time), thewhitehousecouncil@gmail.com
March 8, 2021
The Coalition for a White House Council on Boys and Men calls upon President Biden to immediately expand the mandate of the newly created White House Gender Policy Council from its exclusive focus on women and girls to include equal attention to issues facing men and boys.
Announced on January 19, 2021, the Council's aim is "to guide and coordinate government policy that impacts women and girls, across a wide range of issues such as economic security, health care, racial justice, gender-based violence, and foreign policy, working in cooperation with the other White House policy councils." It has been enacted by executive order March 8th 2021.

We call upon the White House to immediately expand this council in a truly gender-inclusive way to reflect the needs of men and boys. For example, there are currently seven federal offices of women's health in the United States. There are zero federal offices for men's health. Half of the population is left out of the Gender Policy Council! All of our sons, excluded. All dads, excluded. All gay men, excluded. Even transgender men, excluded. The singular exclusion of men's issues from the GPC is astonishing in what could otherwise be an historic recognition of the equality of all Americans as a right to not be divided by gender.
An inclusive and balanced Council would go a very long way toward levelling the playing field for men's dramatic rates of suicide and other health issues, the bewildering lack of male role models leading to gangs and enormous incarceration rates, school dropout rates and other educational issues, and the damaging rates of family violence affecting boys and men. This includes recognizing the real needs of boys and men of color who face challenges and issues such as high rates of incarceration and poverty, who would now be further systemically oppressed under the current structure of this Council. 81 percent of Americans between the ages of 10 and 24 who die by suicide in this country are male. 70 percent of people who die by opioid overdose are male. Boys are the primary victims of community and gang violence and youth homicide and are more likely to be victims of fatal child abuse.
The source of many solutions does not lie in yet another gender exclusive council being added to the existing plethora of councils addressing girls and women's issues, when not a single council has yet focused on boys and men's issues.
This White House must challenge the social and institutional bias against on our boys and men as it continues to challenge the social institutional bias against girls and women.
We do ourselves a huge disservice when we turn the complex realities facing males and females into some kind of contest. Humanity requires us to care about both by word and deed. We are not saying that males should take the place of females on the GPC but are requesting that they not be excluded. Both women and men lose when only one gender wins.


Please Donate!
---
Your donations to the work of the Coalition to Create a White House Council on Boys and Men through PayPal and Network for Good are processed by our parent 501(c)(3) non-profit association, the Global Initiative for Boys and Men.
Paypal:

You can also become a Patron through Patreon.
Sign up for our newsletter, The Proposal.

The Boy Crisis
---
Learn more about the issues boys face today: